Accommodation:

- Motels/Hotels
- Backpacker Hostels

Sightseeing/Attractions:

- Sightseeing Tours

Travel Services:

- Bus Services
- Train Services
- Ferry Services
- Air Services
- Rental Car Hire
- Campervan Hire

Locations near Mt Cook:

- Twizel
- Lake Tekapo
- Methven/Mt Hutt
- Wanaka
- Queenstown
- Christchurch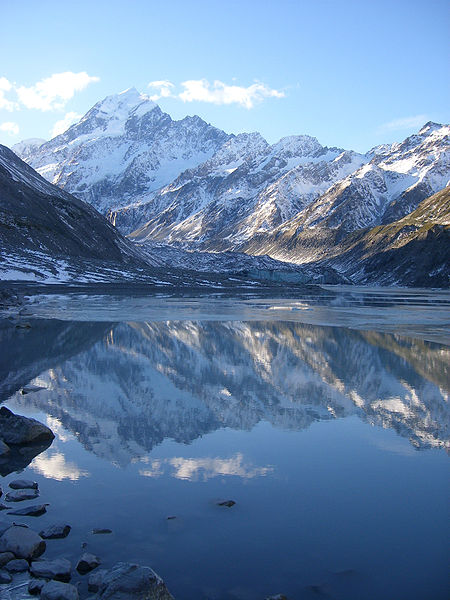 At 3,754m Mount Cook (its Maori name is Aoraki) is New Zealand's highest mountain. Nudging one side of Mt Cook is the mighty Tasman Glacier, one of the longest outside the Himalayas.

Aoraki/Mount Cook National Park (70,696 hectares) is New Zealand's great alpine park. It has the highest mountains and the largest glaciers. Aoraki/Mount Cook Village and all visitors to the park are dwarfed by the immensity of the landscape that surrounds them.
Mount Cook/Aoraki National Park was formally established as a national park in 1953 from reserves that were established as early as 1887 to protect the area's significant vegetation and landscape.

Mount Cook/Aoraki National Park is located in the central part of the South Island, deep in the heart of the Southern Alps.

Mount Cook/Aoraki National Park is a harsh land of ice and rock. Glaciers cover 40% of it. There are 19 peaks over 3,000 metres including of course New Zealand's highest mountain, Aoraki/Mount Cook. The park is also part of Te Waipounamu - South Westland World Heritage Area in recognition of its outstanding natural values.

The glaciers that have helped shape the park's landscape include five major valley systems: Godley, Murchison, Tasman, Hooker and Mueller. The Tasman Glacier, New Zealand's largest and longest glacier, is clearly visible from the main highway at the entrance of the park.

Aoraki/Mt Cook village is located on the southern slopes of Aoraki/Mount Cook, 12 kilometres south of Aoraki/Mount Cook's summit. It is located to Lake Pukaki by Highway 80 and to the face of the Hooker Glacier, on the upper reaches of the Tasman River.
The village serves as a tourist centre and base camp for mountaineers, and lies within the borders of Aoraki/Mount Cook National Park. The Hermitage, the name of which dates back to the original hotel built in 1884, is a prominent and popular location in the village, and is sometimes used as an alternative name for the settlement. The nearest town to Aoraki/Mount Cook village is Twizel being 35 kms away.
Aoraki/Mount Cook village is an easy five-hour drive from Christchurch or Queenstown. On the way you will pass Lake Tekapo on whose shores is the stone Church of the Good Shepherd which has a spectacular view of the Southern Alps framed by its altar window and Twizel.
Aoraki/Mt Cook National Park and the village is served by daily bus and coach services from Queenstown, Wanaka and Christchurch.

There is no schedule air services from Christchurch or Queenstown to Aoraki/Mt Cook National Park.

There are no passenger train services from Aoraki/Mt Cook National Park to Christchurch, Dunedin, Invercargill, Twizel, Oamaru, Tekapo, Wanaka or Queenstown.