Northland
Kaitaia
Kerikeri
Bay of Islands
Kerikeri
Paihia
Whangarei
Auckland
Coromandel/Thames
Tauranga
Mt Maunganui
Whakatane
Matamata
Hamilton Waitomo Caves
Rotorua
Taupo
Turangi
National Park
Ohakune
Wanganui
New Plymouth
Gisborne
Napier
Hastings
Palmerston North
Wairarapa/Masterton
Wellington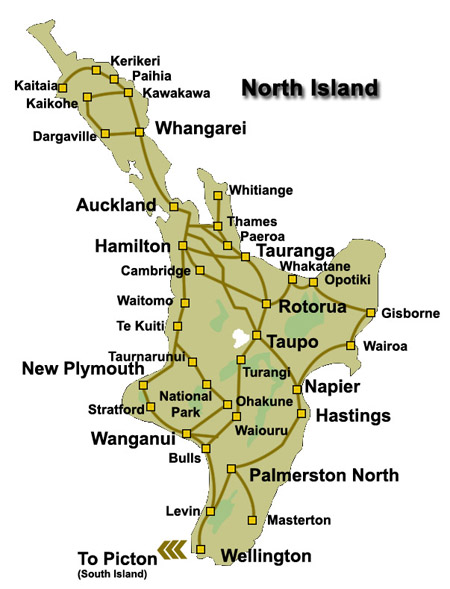 The North Island (Māori: Te Ika-a-Māui) is one of the two main islands of New Zealand, separated from the South Island by Cook Strait.

The North Island is 113,729 square kilometres (43,911 sq mi) in area, making it the world's 14th-largest island.

It has a population of 3,287,600 (June 2009 estimate).
Eight important cities are in the North Island, notably New Zealand's largest city, Auckland, New Plymouth, Tauranga, Gisborne, Napier, Hamilton, Palmerston North and Wellington - the capital, located at the southern extremity of the island.

Approximately 76% of New Zealand's population lives in the North Island.

The highest mountain in the North Island is Mount Ruapehu (2,797 metres (9,177 ft))
According to Māori mythology, the North and South Islands of New Zealand arose through the actions of the demigod Māui.

Māui and his brothers were fishing from their canoe (the South Island) when he caught a great fish and pulled it from the sea. While he was not looking his brothers fought over the fish and chopped it up.

This great fish became the North Island and thus a Māori name for the North Island is Te Ika-a-Māui (The Fish of Māui). The mountains and valleys are said to have been formed as a result of Māui's brothers' hacking at the fish.

Until the early 20th Century, an alternative Māori name for the North Island was Aotearoa. In present Māori usage, Aotearoa is a collective name for New Zealand as a whole.