Pass Information & Prices:


- North and South - 11 Days

Auckland to Christchurch

- Kiwi Traverse - 11 Days

Auckland to Christchurch

- TranzAlpine Experience - 7 Days

Christchurch to Christchurch

- Magic Adventure - 16 Days

Auckland to Auckland
Christchurch to Christchurch

- Spirit of New Zealand - 23 Days

Auckland to Auckland
Christchurch to Christchurch
Magic Bus is New Zealand's trusted transportation for backpackers, independent travellers or those young at heart. The first Qualmark endorsed visitor transport, Magic Bus offers flexible New Zealand backpacker bus travel for the ultimate New Zealand adventure tour.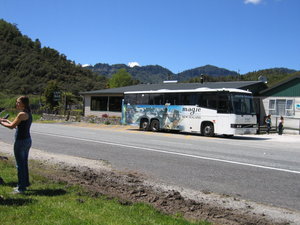 There is a range of New Zealand bus travel passes, from one way deals from Auckland to Christchurch (or vice versa) for a New Zealand tour, or North or South Island only deals. There is a selection of our Passes that include spectacular train journeys - The TranzAlpine from Christchurch to Greymouth and the Coastal Pacific train from Picton to Christchurch.

Through the Magic Bus travel network you can experience the best of both worlds for backpackers and independent travellers. You get access to the very best New Zealand has to offer with the flexibility of being able to travel at your own pace and the security of knowing there is always someone on hand to advise you should you require it.

With the range of bus/coach travel passes are valid for 12 months. so leaving you with more in your pocket to enjoy your New Zealand vacation. With 24 hour seat guarantee allows you more flexibility to plan your itinerary. Frequent departures ensure there is always a seat available when you want one. Magic Bus "Hop on - Hop off" New Zealand bus passes offers you the most flexibility to do what you want. It is your New Zealand holiday after all.

You can get off the coach anywhere on route (not just the overnight stops) and we will pick you up next time a coach comes through. With buses departing every day on our main circuit, you can plan a trip that takes you 2 weeks or 12 months, or you can throw plans out the window and take each day as it comes!
Just check the latest timetable and see when the next bus comes through. With 24 hours notice Magic Bus guarantees to have a seat for you. If we have to put on another coach to accommodate you, we can, we will and we do! To confirm your onward booking just advise your driver or call any of our offices listed. When calling any of our offices please have your ticket ready as we will need your Booking Number, located in the top right hand corner of your ticket.
New Zealand has some of the best backpackers, youth hostels and budget accommodation in the world. These hostels vary in size, style and location. We will drop you off at the door of these hostels and pick you up on the morning you wish to depart.

Alternatively, you can choose from special internet only 'Need It Now Accommodation' for each place you visit.

Magic Bus fantastic driver/guides will shows you all the great adventure activities and scenery New Zealand Tourism has to offer – hiking in National Parks, bungy jumping in Queenstown, whitewater rafting, kayaking, ski holidays as well as getting you close to the unique wildlife - seals, penguins, kiwis, dolphins, whales and our very own mascot, the tuatara.

Meals are not include in our Passes, so you can either prepare your own meals at your hostel or camping ground or sample some local and generally very affordable cuisine. Our coaches stop at fresh fruit and vegetable markets and supermarkets where possible so you can stock up and keep costs down. Our drivers will also organise group barbecues some nights and the opportunity to experience a Maori 'hangi' in Rotorua is not to be missed.

Magic Bus travel passes do not include meals and accommodation. Magic Bus travel passes do include bus/coach travel, North and South Island ferry travel, accommodation pick and drop off and travel on the TranzAlpine train between Christchurch and Greymouth.

So whether you are short on time or long on adventure, the Magic Bus travel network makes New Zealand bus/bus travel and backpacking in New Zealand easy and fun!