Bus travel from Rotorua to:

- Auckland
- Bay of Islands
- Christchurch
- Dunedin
- Fox Glacier
- Franz Josef
- Gisborne
- Greymouth
- Hamilton
- Hastings
- Invercargill
- Kaikohe
- Kaikoura
- Kaitaia
- Kerikeri
- Milford Sound
- Mt Maunganui
- Mt Cook/Aoraki
- Napier
- National Park
- Nelson
- New Plymouth
- Paihia (Bay of Islands)
- Palmerston North
- Queenstown (via Christchurch)
- Queenstown (via Franz Josef)
- Stewart Island
- Taupo
- Tekapo
- Tauranga
- Te Anau
- Thames
- Tongariro National Park
- Turangi
- Waitomo Caves
- Wanganui
- Wanaka
- Whakatane
- Whangarei
- Whitianga
- Wellington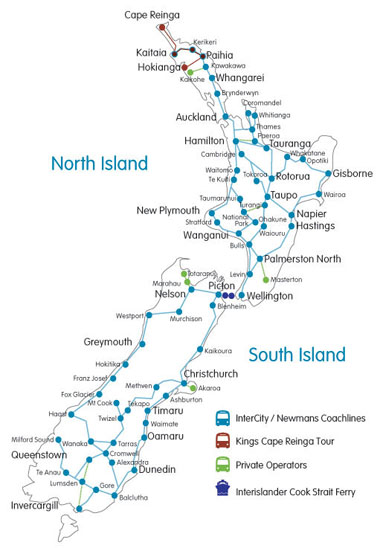 Explore New Zealand's North Island with its unique seven unique geographical regions and diverse natural beauty, from soaring mountain peaks, fiords, lakes, rivers, native rugged bush, the majestic volcanoes of the North Island's central plateau to the central North Island skifields of Whakapapa and Turoa by bus and coach from Auckland by clicking on the destination you would like to travel too on the left or on the route map located on the right..

Together with the networks of InterCity Coachlines, Great Sights and Naked Bus, you can travel to over 300 destinations and key tourist attractions in the North Island with over 80 services every day.

With fares starting from NZ$1.00, travelling on InterCity Coachlines, Great Sights and Naked Bus bus coach networks is an affordable way to see the North Island's unique scenic beauty.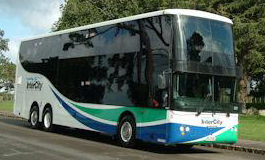 Major coach and bus operators like Naked Bus and InterCity Coachlines provide frequent daily regional services in the North Island.

Travel is in modern buses and coaches with InterCity Coachlines operating a fleet of eco- friendly air conditioned buses with reclining seats and foot rests.

Great Sights operate premier sightseeing touring services using a fleet of modern eco-friendly air conditioned coaches featuring reclining seats with foot and head rests and onboard toilet/washroom facilities.

All long distance and regional bus and coach services do stop regularly for comfort and refreshment breaks.

InterCity Coachlines operates the Starlighter overnight coach service between Rotorua, Hamilton, Taupo, Palmerston North and Wellington or vice versa, connecting with Cook Strait ferry services operating from Wellington to Picton.

The Starlighter service features reclining seats with foot and head rests, individual reading lights and air conditioning controls, onboard toilet/washroom facility and makes two refreshment/comfort stops on route.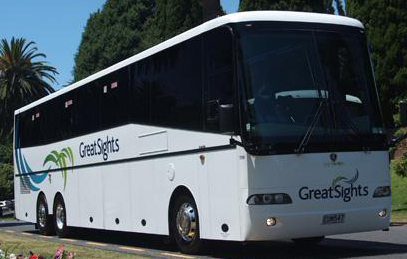 Larger coach and bus operators like InterCity Coachlines and Naked Bus operate frequent daily bus and coach services in both the North and South Island, with some bus and coach services connecting with Cook Strait ferry services that operate between Wellington and Picton crossing Cook Strait that separates the North and South Islands.

Combined bus and ferry travel can be made from Rotorua to Christchurch, Picton, Blenheim, Kaikoura or Nelson that includes both bus and ferry travel in one fare and ticket.

If you want to explore and see New Zealand's unique scenic beauty, there is a range of 'Hop On/Hop Off' bus and ferry passes that provides value for money travel.